VISION
Career Guidance and Placement Cell strives to respond to the needs of the students empowering them to become employable. It plays a vital role in any professional educational institute, as a true link between industry and students. We serve the purpose of match making and ends up in a win situation .i.e. industry gets supply of fresh talented students through our institution.
MISSION
Our mission is to create an ambience in which new ideas and creativity flourishes. The motto of placement cell is to create leaders of tomorrow. The dynamic and constantly evolving academic program reflects the institute's commitment to stay in tune with the expanding frontiers of knowledge worldwide.
MILESTONE
Percentage of Interviewees has increased from 40% to 60%.
Number of Appointment orders has increased.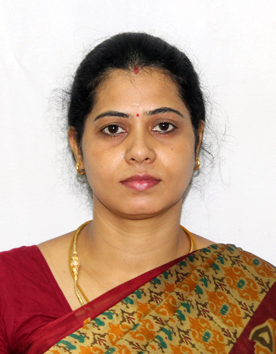 Co-ordinator
Ms.H. Bhuvaneswari.
BA-(Economics)
HIGHLIGHTS
Operating a separate Cell with Coordinators from various departments along with student's volunteers from each and every department for smooth and uninterrupted process.
Special training session on Soft Skills, Interview techniques, Numerical ability and Logical Reasoning with the support from the department of Soft Skills.
BEST PRACTICES
Organizes campus interviews for all UG & PG final year students with industries and business houses of repute from all over India.
Prepare the students to face campus interviews by arranging training in Aptitude tests and Group Discussions.
Train the students for Technical and HR interviews through professional trainers and through SAASC alumnae.
Promote career counseling by organizing micro level counseling through the respective class in-charges as well as by placement coordinators by visiting the students in their classroom itself.
STAFF REPRESENTATIVES
Dr.R.Siva Subramanian(Asst Prof, Biochemistry)
Mr.T.Dinesh(Asst Prof,Computer Science.)
Dr.C.Jeevarathinam(Asst Prof,Physics)
Dr.S.K.Gunavathy(Asst Prof,Chemistry)
Dr.R.Jeevapriya(Asst Prof,Mirobiology)
Mr.D.Nagarajan(Asst Prof,Mathematics)
Mr.T.Karthikeyan(Asst Prof,Management)
Mr.M.Harish(Asst Prof,Bank Management)
Ms.M.Vijithra(Asst Prof,English)
Dr.G.Muthukumar(Asst Prof,Commerce)
Mr.M.Kumaresan(Asst Prof,Computer Science)
Mr.T.Sudhakar(Asst Prof,Tamil)
Dr.D.Siva(Asst Prof,Biotechnology)
Dr.J.Vanithamani(Asst Prof,Botany)